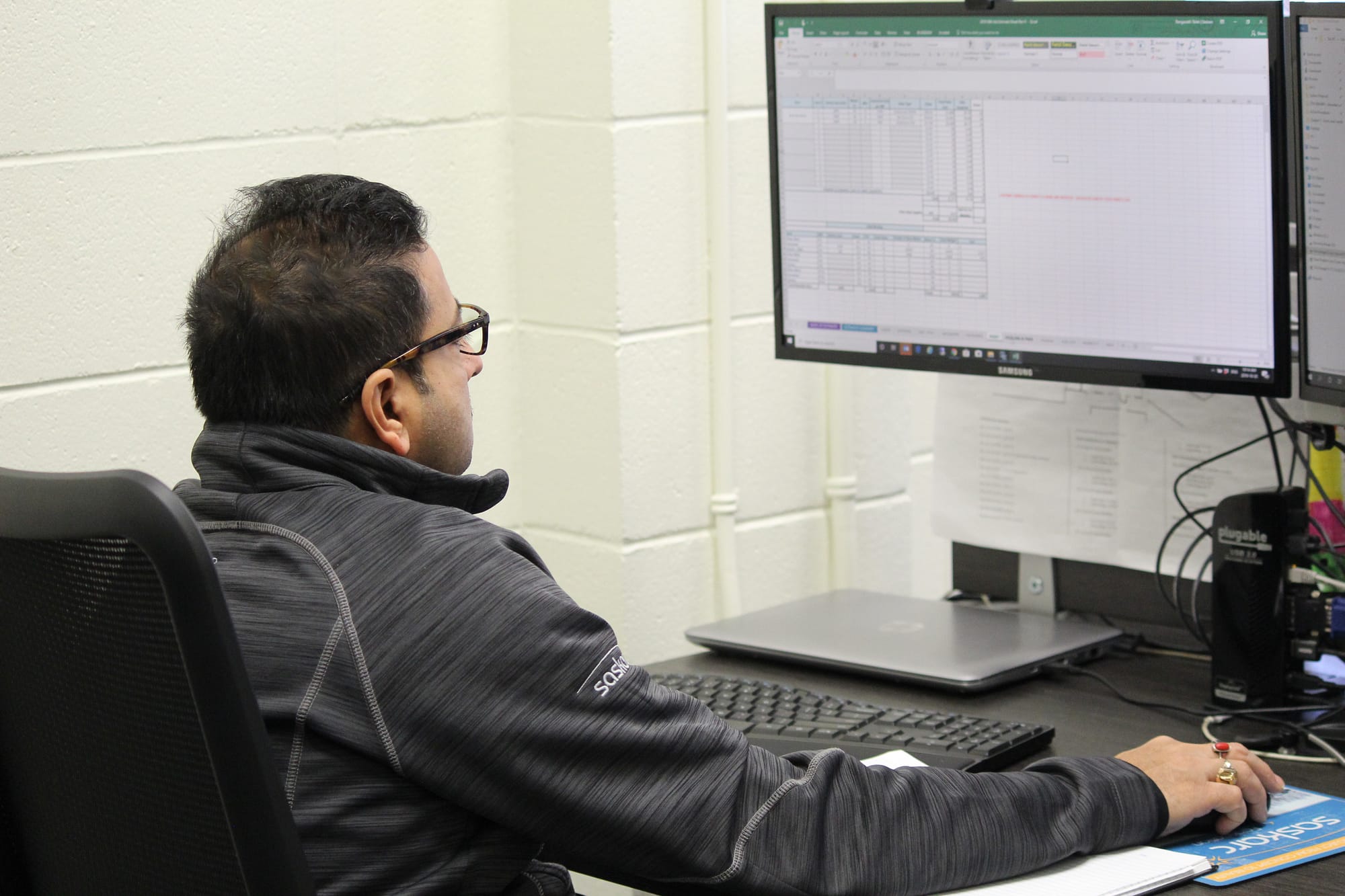 Materials Requirements Planning software, commonly referred to as "MRP" software, has modernized and improved industrial steel fabrication as we know it.
MRP software is a digital inventory management system used by steel manufacturers and fabricators to manage, price, schedule and place material goods orders for individual steel fabrication projects.
This software provides a valuable link between procurement, production, engineering and fabrication to streamline the estimating and documentation process for an enhanced customer experience.
Learn more about how MRP software is enhancing industrial steel fabrication and what these benefits mean for steel fab customers:
How MRP Software is Used in Steel Fabrication
MRP software is utilized to provide structural steel fabrication customers with a streamlined experience from the very beginning when a project PDF is received by the fabricator, through the initial materials planning and estimating process.
MRP software is used to answer the following questions:
What materials are needed?
How many materials are needed?
When are the materials and labour needed?
Because a fabricator can answer these questions very quickly and easily with the data and big picture overview that MRP software provides, customers are provided with more accurate and quicker estimates, as explained below.
Accurate and Quicker Estimates
MRP software allows fabricators to provide quicker and more accurate estimates to customers because of the streamlined inventory control and enhanced purchase planning functionalities.
These functionalities take the element of guessing out of the estimating process. Prior to utilizing MRP software to streamline the estimating process, many estimating teams would compare proposed projects to similar past projects to gauge timelines for completion, and scan logged data and information in spreadsheets to provide estimates.
MRP software allows steel fabricators to provide their customers with more accurate estimates by providing an accurate, big picture view of:
Current inventory and procurement timelines
Out-of-stock parts and components needed (price and time to ship)
Workforce and workstation capabilities and planning features
Real-time shop floor data
Before MRP software, when fabricators didn't have needed materials at-hand, estimating professionals would research OEM prices and manually add them in, adding more time to the estimating process, as well as potential delays while waiting for materials to arrive. With this manual estimating process, there is a possibility that the incorrect amount and type of materials could be ordered once the estimate is accepted by the customer.
With MRP software, the wrong materials are never received as the software accurately identifies exactly what is needed, preventing mistakes in material orders.
Along with using MRP software to provide quicker and more accurate estimates to customers, fabricators are able to provide customers with a further enhanced experience by creating 3D models for customers who didn't provide a DXF file up front.
This fosters enhanced communication and collaboration, which help the fabricator and customer work towards successful outcomes.
Better Data Management and Documentation
Another huge benefit of integrating MRP software for steel manufacturing and fabrication is that it provides both the fabricator and customer with better documentation.
After the quote is accepted by the customer, the structural steel project's progress can be tracked in detail until completion.
This enhanced data management allows fabricators to provide their customers with real-time updates as well as a realistic production and shipping schedule.
Additionally, when customers have last-minute change requests, metal fabricators can easily make the changes as requested by adjusting the order as necessary in the MRP software.
Some of the data that MRP software for steel fabrication includes:
Inventory status records (materials on-hand or materials on order from suppliers)
Shelf life of current stored materials
Timing of when the materials are required at each stage in the steel fabrication and fitting process
Streamlined Processes and Competitive Pricing
One of the main perks of using MRP software in industrial steel fabrication is that it streamlines processes, by reducing product waste and extra inventory costs, as well as speeding up timelines.
Greater inventory management through MRP software is a huge component in streamlining the industrial steel fabrication process.
Subsequently, when inventory carrying costs are reduced, the structural steel fabricator can provide customers with competitive rates.
Saskarc analyzes every project to define the critical requirements that will maximize success. We continuously invest in our people, equipment, and facilities to provide our customer with the best service, support, and innovative solutions to meet their requirements.
Our strict attention to material selection, joining specifications and inspection procedures ensures that we deliver on the highest quality projects.
Saskarc is entirely committed to quality, customer service and on-time delivery, however NEVER at the expense of our commitment to safety.
Due to the versatility of Saskarc's custom steel fabrication capabilities and project management expertise, we are equipped to fabricate and assemble oversized modules limited only by transportation regulations. When it comes to large projects, Saskarc is your turnkey professional fabrication solution. Read what our customers have to say about working with us.